Morocco Prestige Cars car rental conditions
The General Rules
Must be over 21 years old to rent a car.

His license is being validated must have a seniority of at least 2 years. You must bring original documents to justify your license to benefit from a car rental….

Delivery is free for all trips to Marrakech: aeropoet Marrakech, stations, restaurants, hotels, riads, ....

Delivery is chargeable in the other cities in Morocco: Agadir; Rabat; Casablanca, Tangier, Fes .... included (delivery costs and car recovery).

To rent a vehicle, you should present your bank card or a bank check or cash: for the deposit which will be returned when the rental vehicle is returned for security reasons.

Vehicles can be delivered or picked up at the location of your choice. (Airports, Hotels, Stations, etc.)

It is forbidden to use tracks except in 4X4 vehicles

The car rental agency "Morocco prestige Cars" offers you the unlimited mileage version to enjoy your stay in complete freedom.

In the event of a breakdown, we offer a vehicle change to guarantee you a high quality service. The following insurances are included in the price.

Theft and fire insurance for the rental car.

Our vehicles have comprehensive insurance.

In the event of an accident, the driver is solely responsible for the results, a report is mandatory, he must reach the agency within 24 hours following an accident, all damage and breakdown assistance will be at the charge of the car driver. " the tenant ".

In the event of theft or loss of car documents, the client is responsible for their charges.

The customer is responsible for the car from delivery to the return of the car. There are no refunds for days not used.

Prohibited from driving while intoxicated, under the influence of drugs or other dangerous behavior.




Payment Terms
Payment will be made by direct transfer to our bank "BMC BANK OF AFRICA" number: 011 450 0000 02 210 00 36681 22 or by wafacach, western union, money gram) or in cash on delivery of the rental car. Our prices are included per unlimited mileage.




Types of car rental
Short-term rental
: daily rental.
Long-term car rental Marrakech
: We offer our cars for a long-term rental with reasonable prices. for more information contact us by phone :
+2120707071918
or email: contact@moroccoprestigecars.com.
Marrakech car rental with driver.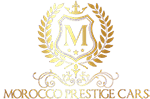 CAR RENTAL IN MARRAKECH
Are you planning your vacation in Marrakeh or any other city in Morocco and are you looking for a rental car? Our agency "Morocco Prestige Cars" is the best choice for you, we offer you rental cars for a short or long duration with the possibility of delivering and recovering throughout Morocco from Marrakech without hidden costs, and neither additional costs.
Morocco Prestige Cars makes it easy for you to rent a car by offering you advantageous prices with quality service. Morocco Prestige Cars is located next to Marrakech Airport. We offer a large selection of brand new and new vehicles at the best price in Marrakech. The price of Marrakech car rental includes unlimited mileage, insurance and VAT. You can book directly by the form on our website, or directly by phone, or on site with our agency Marrakech.